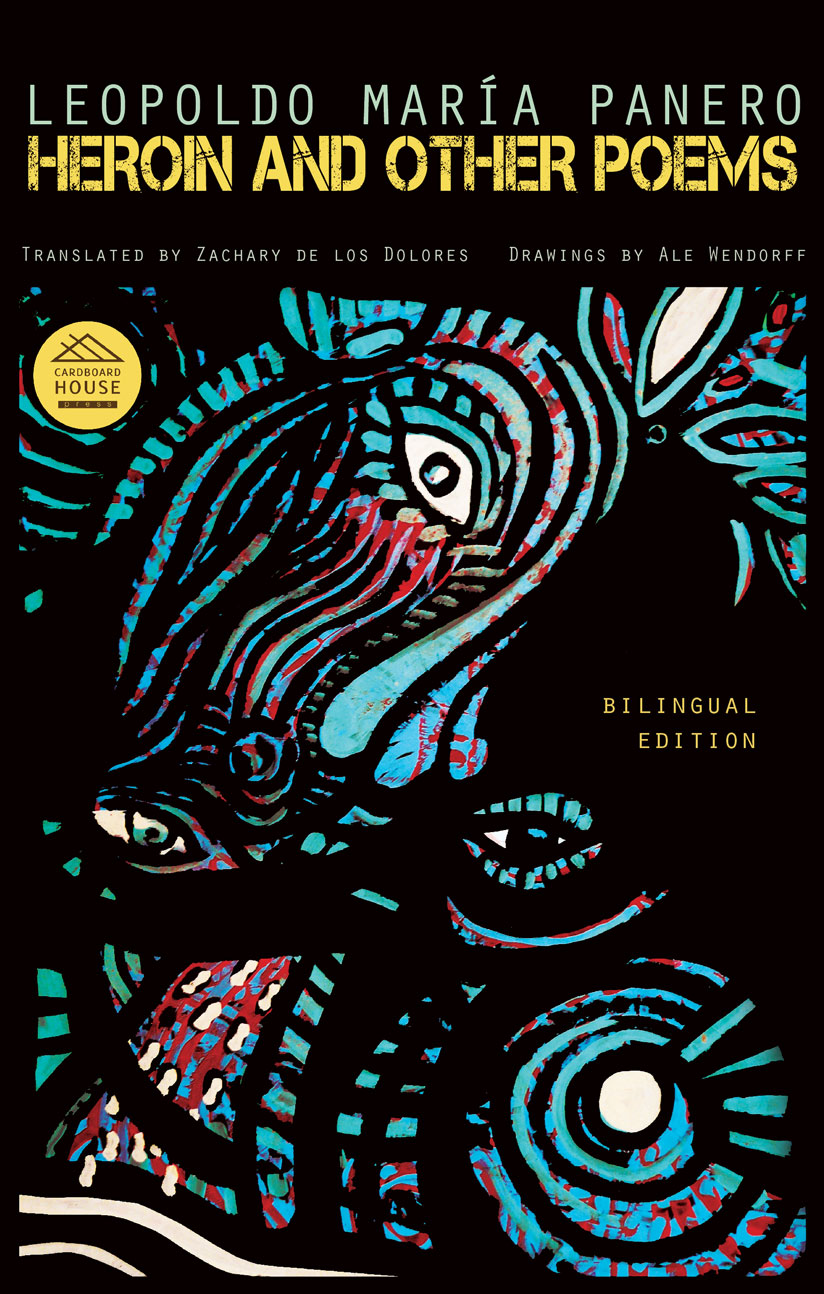 HEROIN AND OTHER POEMS

Leopoldo María Panero
Translated from the Spanish by Zachary de los Dolores
Drawings by Ale Wendorff
Poetry
Bilingual edition
ISBN 978-0-9906601-2-5
40 pages


Out of Stock

Art book, hand-crafted edition with cardboard hardcover. Hand-sewn binding with full color dust jacket. Each copy is a unique, limited edition.
For international deliveries, we will send you a request for payment of additional shipping costs.
Leopoldo María Panero gives the reader a poetic testimony of his relationship with heroin, to which he was addicted for many years. Panero's voyage begins among diamonds, bubbles, and veins, encountering delirious characters and spaces along the way. His poems represent some of the most singular works of contemporary Spanish poetry.
Leopoldo María Panero was born in Madrid on June 16, 1948. He lived fervently between instability and exuberance, between constant admittance into mental institutions, suicide attempts, and drug addiction. His work is one of the most singular and delirious works of contemporary Spanish poetry. Panero, loved and repudiated poet of antagonisms, died March 5, 2014 in the psychiatric unit of Las Palmas de Gran Canaria, or as he called it, the madhouse of Dr. Rafael Inglott.

Poetry Books: Así se fundó Carnaby Street (This is how Carnaby Street was founded) (Ocnos, 1970); Teoría (Theory) (Lumen, 1973); Narciso en el acorde último de las flautas (Narcissus in the last chord of flutes) (Visor, 1979); Last River Together (Ayuso, 1980); Dioscuros (Ayuso, 1982); El último hombre (The last man) (Ediciones Libertarias, 1984); Poesía 1970-1985 (Visor, 1986); Contra España y otros poema de no amor (Against Spain and other poems of no-love) (Ediciones Libertarias, 1990); Agujero llamado Nevermore (Hole called Nevermore) (poetic selection, 1968-1992) (Cátedra, 1992); Poemas del Manicomio de Mondragón (Poems from the Mondragón Mental Hospital) (Hiperión, 1999); Suplicio en la cruz de la boca (Torture in the cross of the mouth) (El Gato Gris, Ediciones de Poesía, 2000); Teoría del miedo (Theory of fear) (Igitur, 2000); Poesía Completa (Complete Poetry) (1970-2000) (Visor, 2001); Águila contra el hombre: poemas para un suicidamiento (Eagle against man : poems for a suicide) (Valdemar, 2001); Esquizofrénicas o la balada de la lámpara azul (Schizophrenics or the ballad of the blue lamp) (Hiperión, 2004); and Danza de la muerte (Dance of death) (Igitur, 2004).

Zachary de los Dolores. Translator and Poet (Utah, 1976). Received his Ph.D. from the Complutense University in Madrid, in Spanish and Latin American Thought. His research interests are Transatlantic Poetry, Translation and Comparative Studies of counter cultural literary movements. His most recent publications have been the translations of beat poet Bob Kaufman into Spanish and Leopoldo Maria Panero, Heroin and other poems (Cardboard House Press, 2014) into English, the study of 80s Peruvian countercultural poetry Kloaka: antología poética (Amargord, 2014) and his own poetry book Robos, Setas & Sombras (Huerga y Fierro, 2014). He also was recently included in the anthology: Disidentes antología de poetas críticos españoles 1990-2014 (La oveja roja, 2015).