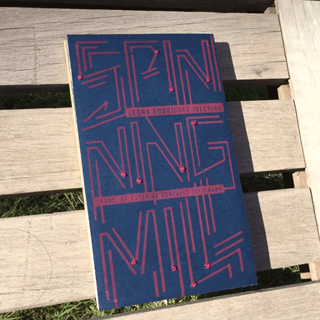 SPINNING MILL
Legna Rodríguez Iglesias
Translated from the Spanish by Katerina Gonzalez Seligmann

Design by Mutandis
Poetry / Book Art / Cartonera Collective Series
Sewn Bound ︎ Screen Print
Bilingual edition
52 pages
ISBN 978-1-945720-17-8
March 27, 2019



For international deliveries, we will send you a request for payment of additional shipping costs.




---
Spinning Mill is supported in part by the National Association of Latino Arts and Cultures, the Andrew W. Mellon Foundation, the Ford Foundation, Southwest Airlines, and the Surdna Foundation through a grant from the NALAC Fund for the Arts Grant Program.
The complexity of Legna Rodríguez's poems lies concealed in their apparent simplicity, woven into the cultural, racial, and political complexity of being Cuban. Ribald and rough, they allow space for the crude materiality of our relations to self, to others, and to that which houses us. In their briefness, these poems are abrupt rather than fast. Eschatology is presented as part of love, but everything can eventually be (part of) something else. Katerina González Seligmann's translations render these possibilities with faithfulness to their original language. This is not feel-good poetry. That's why we love Legna.

—Cristián Gómez-Olivares

Legna Rodríguez Iglesias was born in Camagüey, Cuba in 1984. She works in a variety of genres, including poetry, short stories, novels, children's books and theatre. She has won the Julio Cortázar Ibero-American Short Story Prize (2011) and the Casa de las Américas Theater Prize (2016). Her book Miami Century Fox (Akashic Books 2017) won the Paz Prize for Poetry awarded by the U.S. National Poetry Series (2016). Alfaguara Press has recently published her novel, Mi novia preferida fue un bulldog francés [My favorite girlfriend was a French bulldog] (2017). She is the mother of an incredibly beautiful baby.
Katerina González Seligmann is an Assistant Professor in the Department of Writing, Literature, & Publishing at Emerson College. She is a literary translator and a scholar of Latin American, Caribbean, and U.S. Latinx literature and history. She has also translated Rita Dove, Nicolás Guillén, José Ramón Sánchez, Frances Negrón-Muntaner, and Victor Fowler Calzada. Her recent articles include, "Productions of Cultural Combat in Tropiques," South Atlantic Quarterly (2016) and "Governing Readability or How to Read Césaire's Cabrera," Inti: revista de literatura hispánica (2012). Her article on translation studies, "Cabrera's Césaire: The Making of a Trans-Caribbean Zone," is forthcoming in MLN (2019). She is also currently completing her first book, Constructing the Caribbean: How Literary Magazines Incubated a Region.